"There's No Need to Fake it 'til You Make it"


You hear it all the time and you've tried it but it doesn't feel good... it's just you pretending to be something you're not, hoping that at some point, it will feel natural. But up until now, all it's helped you to do is feel a little bit silly more than anything. 'Imposter syndrome' comes to mind.
​
Yeah... no thanks.

Here at The Confidence Haven, it's all about growing in confidence naturally. It's the 'go at your own pace' approach rather than trying to force anything and guess what? You're encouraged to move your focus away from trying to become confident and instead, focus on getting to know yourself, getting comfortable with who you are and making changes (big or small) that are in line with the true you.

Do those things and your confidence will gradually increase without you having to make a big deal about this whole not feeling confident issue.

It might take a bit longer for you to feel confident in this way (and if you are in a rush, The confidence Haven probably isn't for you) but the results will be deeper and long lasting.

A great place for you to start would be by taking the confidence assessment. It will help you to see where you fall on the confidence scale. Click below to get started.
Powered by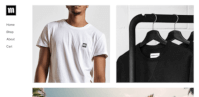 Create your own unique website with customizable templates.